A casual search of the internet for blogs about hiking will yield a hell of a lot of results. 96 million to be exact. A lot of the blogs will be casual bloggers who are sharing their passion for the great outdoors.
Some will be professional writers who have done the research and asked the experts.
However, the one thing that they all seem to have in common is, the number one thing on their lists to consider before going hiking is: planning.
We're inclined to agree. No matter what your chosen sport or pursuit may be, planning is everything.
When it comes to hiking the first consideration should always be your feet.
Yes, it's important to have the right base layers and jacket but your feet are what's going to get you there. And - if you've looked after them - what'll get you home again.
Be Prepared
Before you start buying up boots, socks or whatever else you need for your trip you need to ask yourself some fundamental questions.
What conditions are you hiking in? Some materials fair better in some conditions over others.
Where are you hiking? Ground conditions will dictate a lot, including the kind of footwear you're buying.
How long do you intend for the walk to last?
Do you have any orthopaedic or medical conditions - especially ones relating to blood flow?
Do your socks always wear in the same place? This could be a sign of poorly fitting footwear or poor foot care. This will need addressing before you get into nature.
It's important to understand that not every pair of socks or shoes is suitable for every kind of outdoor activity. In exactly the same way that not every pair of running shoes is suitable for take part in a marathon.
Go Wool or Go Home
It's no surprise that we champion wool socks, after all we do sell them. But we do so for good reason.
Hiking - like most outdoor pursuits - is pretty hard going on your feet and if you don't take care of them you could find yourself a long way from home and in no fit state to walk back.
When it comes to taking on nature you need to make sure your feet are comfortable. That usually means, depending on the time of year, warm and sweat free (staying dry isn't always possible).
Your footwear will play a part in how your feet respond to conditions too but a reliable pair of wool socks will serve you in very good stead indeed.
And here's why:
Wool is hard wearing. This is good for your feet because it can take the punishment your excursions will dish out. That's a pretty basic requirement that not all socks will live up to.
You need to protect your feet from whatever you put them through. Anyone who has served in the armed forces or who enjoy sports like airsoft can similarly attest to the benefits of socks that won't give up after a few wears.
Ruined feet are bad news.
Wool is comfortable. Well, socks made from possum or merino wool are comfortable. Unbelievably so.
Comfort is pretty important if you're planning a day (or more) of hiking. Discomfort usually means something is rubbing and that means blisters.
Blisters may not seem that big a deal but any experienced hiker will tell you - when you're a long way from home and you've got to walk back, it's a real problem.
Ruptured blisters are prone to infections which can spread and - in some cases - cause sepsis.
So blisters are a serious consideration.
Wool is breathable. The nature of wool allows air and vapour to pass through it which prevents your feet from getting sweaty.
Dry feet don't slip in their socks - minimising the risk of blisters further. It also prevents any fungal spores from taking root because they don't have the moisture needed to grow.
The nature of wool also means that your feet are kept warm in the winter and cool in the summer.
Wool doesn't smell. Wool is naturally odour resistant. The same properties that helps to keep your feet dry when wearing wool socks is the same thing that stops them from smelling.
Although a comparatively minor benefit compared to your overall foot care, it's advantageous not to have smelly feet if your hiking with a group of friends.
What Socks are right for you?
Unfortunately it's not just a case of picking the first pair of Tramping/Hiking socks you see and hoping for the best.
Different socks are better for different kinds of hiking. You also need to take the kind of footwear you have into consideration too. Modern hiking boots are very fitted, some thicker padded socks may create a tightness and discomfort in these high tech units so be aware.
Long socks and hiking shoes (rather boots) may not be the look and comfort you're going for.
Ultimately you need to weigh up what you're doing, where you're doing it and what the conditions are going to be like.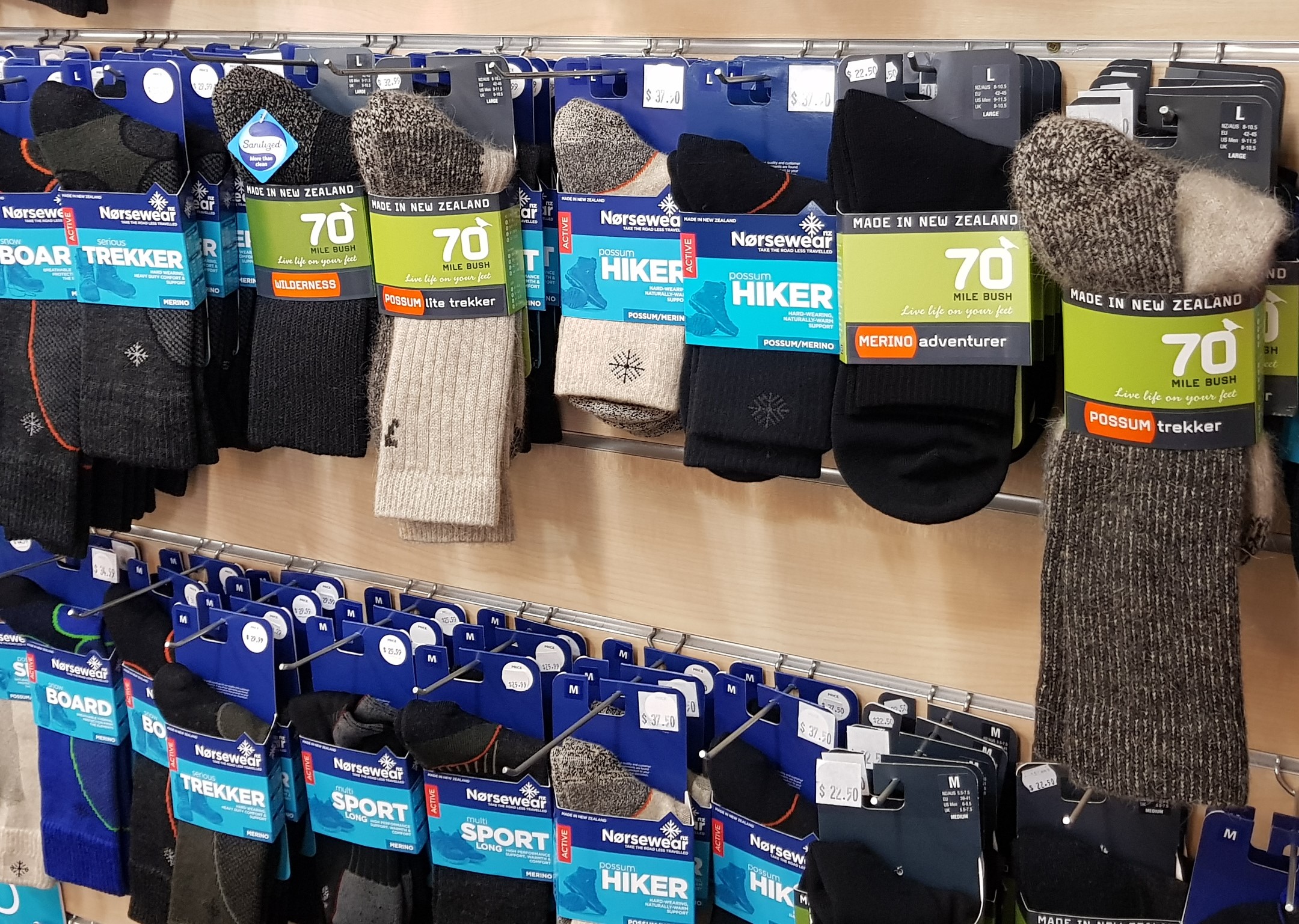 Fitting
An ill fitting sock is the cause of most blistering !
Here is an example If you are a size 9 UK mens (11 ladies) the large 8-10.5 is great usually, but if you are on the 8 (10 ladies) size we would recommend dropping to the Medium 5.5-7.5 UK Mens (7.5 -9.5 womens)
This lower cusp size will have a closer fit and reduce the risk of bunching around the small toes and heel.
Bunching = Blisters
If you are on the lower the scale of product sizes drop down one never go up a size for NZ made socks!
For hot days something like the 70 MileBush cool max ankle sock will provide you with comfort and keep your feet cool. But these will be better in a walking shoe and may not work well in a boot.
The cotton blend Summer Work Sock may be better for this or drop into the 70MB Adventurer the padded merino sock for day trippers may also be the ticket in hot weather!
For warmth use Possum Blends
Norsewear possum Hiker socks keep your feet nicely insulated thanks to the hollow possum fibres. They trap the air and so keep your feet warm, even if they get wet.
The Norsewear Lite Possum Trekker, next weight up.
The Norsewear Possum Trekker (check your boot size can handle these thick toastie bad boys!)
For durability
The 70 Mile Bush Wilderness is a reliable choice for durability on multi day excursions. When you go off the beaten track socks need to be strong, comfortable and protect you from blisters. This sock has a looser rib design top that sits above the ankle and doesn't restrict blood flow in the calf muscle area while the cushioning construction holds onto the foot preventing slipping and bunching that is the root of most blisters!
We have customers that use the Norsewear Ranger Work sock for hiking too as they work all day in them and find them to be part of their body and unnoticed.
For the Hardy Trekkers
There are those that are hardy and use the unbreakable Norsewear Farm Fleck (Sir Ed Hillary was in a knee high version of these in his climbing days). 50 years of being New Zealand's top selling Farm and Work boot sock they'll get the job done day in day out.
This crossbred wool sock was the founder of comfort and durability under duress. Wool socks were supplied to the soldiers in WW2 whether they be in the Pacific or the European mud , they wicked moisture and maintained warmth.
A good all rounder is the 70 MileBush Adventurer. These socks are comfortable, hard wearing and will keep your feet warm. They won't stand up to extremes though and you'll have to upgrade your socks if your excursions get more adventurous.
Or for the more challenging hikes, there's the Norsewear Serious Trekker. It's specially designed for hiking so it's hard wearing, provides good support and protects your feet against blisters.
This is just a small sample based on very top level requirements.
To get the full benefit of our years of experience why not get in touch or visit us in store for advice tailored to your needs.

Alternatively you can check out our online range of natural fibre socks here.