Recycling wool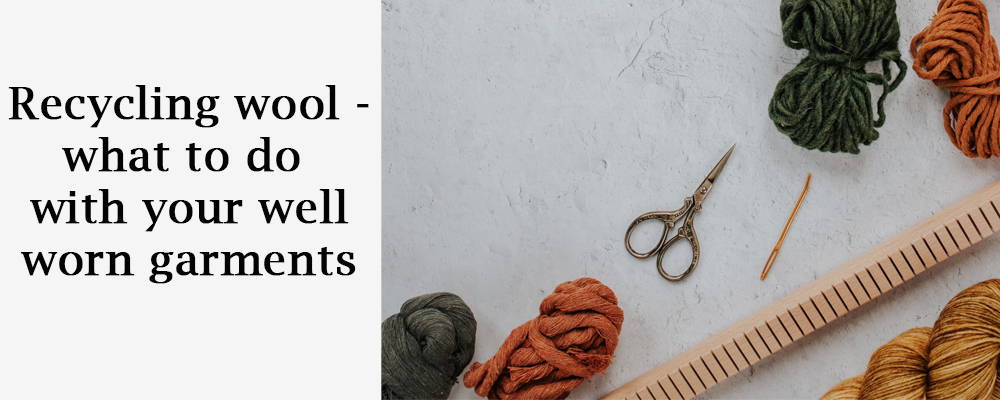 Wool is durable, reuseable, recyclable and biodegradable, so by buying wool clothing, you can reduce the impact your clothes have on the environment.
The 21st century seems to be plagued by waste. It is still true that we produce far more waste than we would like to, despite the reduction in popularity of single-use plastics and fast fashion.
Here at New Zealand Natural Clothing, we sell an array of wool products. And, if you love and wear them as much as we do, you know how devastating it can feel when your favourite wool garment seems to be on its last legs.
So, instead of just giving it up, we hope this article can help you get your money's worth with your items all while being environmentally friendly at the same time.
Fixing your wool garments means that you can give some of your most loved items a second life. You can repair wool at home more easily than you might think, and you'll save both time and money.
Even with the highest quality of wool, sooner or later, you may get a small hole or tear in your clothing. It's just one of those things, and the reasons for getting them are plentiful and more often than not, out of your control!
In the bush and snagged it on a branch, Bush Lawyer or Matagouri

Fabric becomes entangled in a zipper or Velcro

Your furry friend gets a little bit too excitable during playtime

The dreaded moth comes to take a bite!

Or simply, you have loved your item, and the amount of uses and washes have taken its toll.
How to fix your wool products?
Depending on who you ask, everyone will have a different method, and be able to tell you what works best for them when they repair their own wool garments. Ultimately, it all comes down to your skill level and what you would like the result to be.
A knitter will be the best person to repair a knitted garment. - If you're not feeling very confident about it, friends and family may be a great source of talent! But, if all else fails, Youtube is full of in depth videos that show you simple and effective ways to make sure that your jumper is on the mend.
If you've managed to catch it while it's small, here is a tutorial showing you how to repair small holes in your knitwear.
This tutorial shows you how to mend a larger hole, while also being a great source of inspiration if you wanted to spice up the design of your item a little!
If you wanted to find some different ways of stitching to suit you, you will find a tutorial for a duplicate stitch here and and a tutorial for a laddered stitch here.
Two pro tips: If you're sure there is no fixing your garment, unravel it and keep the wool for future mending use!
And, a split seam, in some heavier knits, may be better repaired on a sewing machine.
2. Sell, swap or give away!

Another great way to repurpose your items is to sell, swap or give away.
Obviously, giving an item away would be the most hassle free of the three choices. Passing an item to a friend or family member (if the condition is still good enough) is a really great way to make sure that your item can be loved and useful as long as possible. If you have an artsy friend/family member, they may even be able to turn it into something that they will love even more than you did previously!
Since we are now living in a digital world, there are a hoard of websites that you can swap or sell your items to users all around the world. Regardless of what kind of items you're trying to sell there is definitely a community online, with people sitting on the other side of the screen ready to swap their stuff with you, or drop a little bit of cash into your bank account.
Some of the most popular are:
Trade me - Trade Me is the most popular ecommerce platform in New Zealand, with more users than Facebook. Due to Trade Me's widespread acceptance in New Zealand, buyers are more likely than sellers to resell unwanted products on the marketplace, resulting in less than 1% returns.
Facebook Marketplace - Anyone can list items on Facebook's Marketplace based on items and location. The profit margin is 100% on anything you sell, from clothing to gaming consoles. Not bad at all! You can also upload listings for items that you just want to give away, or items that you would be interested in swapping.
If one of your well worn garments is just too close to your heart for you to sell, swap or give away - how about turning it into something else? Old wool is the ideal upcycle material and can be transformed into lots of different and useful DIY's. Definitely one way to be environmentally friendly and get your creative juices flowing all at the same time!
A new pair of mittens? The mittens should be cut at the bottom of the sweater so that the hem keeps them snug around the wrist. Find instructions on how to here.
A new cushion cover! Especially in the colder months, we all love to get comfy on the sofa and hide away from the brisk outdoors after a long day. But, instead of being in your favourite item, how about on top of it?
This YouTube video shows you four different ways that you can use old wool to make pillowcases. She uses a sewing machine, but if you're handy with a needle and thread, you can do that just as easily.
Making a stylish new headband could be the easiest way to repurpose any old wool lying around. You can make a stretchy, comfy headband using a piece of an old sweater with a pattern you love. It can be narrow for holding back hair and looking stylish or wide to make a hat or the cold weather.
So, now you have an abundance of options for any old wool taking up space in your wardrobe or just hanging around the house.
Your friend could enjoy a new sweater, your bank account could feel a little bit of love from selling it on, or the environment could thank you for recycling it properly.
Whatever you choose, you'll be able to make use out of your well-worn garments, and feel great about your choice all at the same time.