Will merino wool keep me warm?
Posted by Team NZNC on 23rd Apr 2021
Choosing a fibre that works for your lifestyle can be a little overwhelming because there are so many wonderful options.
At New Zealand Natural Clothing we are proud to be fibre freaks! We know everything there is to know about natural fibres and we love sharing this knowledge with you because investing in the right product for you.
We would rather you don't buy anything than buy something that won't give you the comfort, security and warmth that you are looking for.
One of our absolute favourites is merino wool. We think it's marvellous for so many reasons (which we will go into later on) and it's versatile which is always a plus for us.
In this blog we're going to look at what merino wool is, the pros and cons plus specific recommendations.
Will merino wool keep you warm? Let's find out...
Merino wool comes from merino sheep. Merino sheep were first introduced to New Zealand and Australia towards the end of the 18th century after playing a pivotal role in Spain's economy which is where they originated from.
So instrumental to our natural fibre industry merino sheep have been domesticated in such a way that they won't survive without an annual shearing.
Over the years they have been bred to supply wool above everything else and their wool doesn't stop growing which means that if they aren't shorn annually they can suffer from health problems.
Impressively a Peppin merino ram can produce up to 18 kilograms of wool per year of high quality wool.
Merino wool is generally under 24 micron, making it really fine and very soft.
At New Zealand Natural Clothing we prefer to use merino wool that is between 18 and 20 micron, the finest option for the best quality.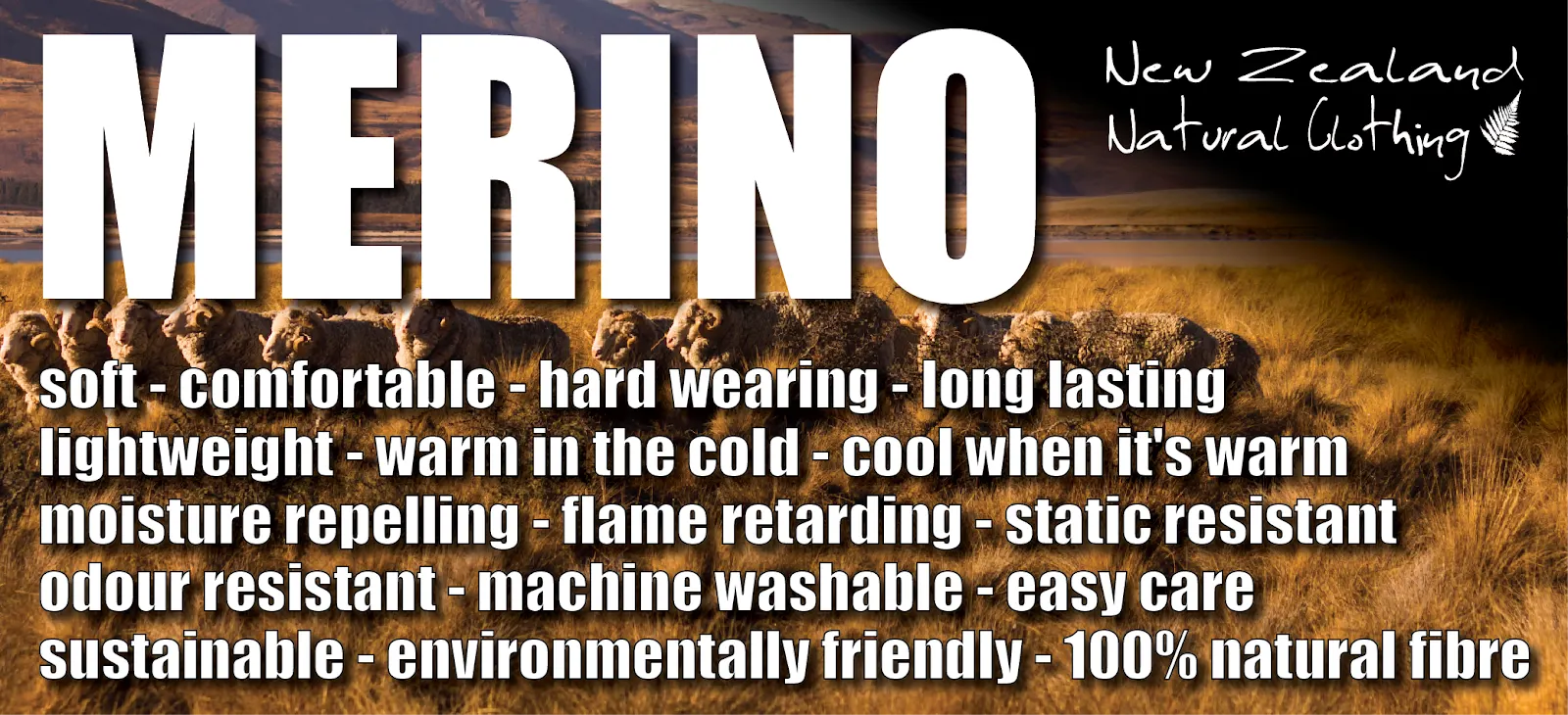 Merino wool is a popular choice because it has so many fantastic qualities such as;
Expels moisture away from your skin rather than trapping it

Very soft and luxurious

Low allergenic - which means its suitable for those with sensitive skin

Merino helps garments to hang better so they keep their shape for longer

Breathable, it insulates without overheating

Blends well with other fibres

Water resistant, merino wool can hold up to 30% of its weight in water without feeling damp
We love merino wool and have chosen it as the best option for our base layers as it offers all the benefits we like to see in garments designed for warmth, comfort and flexibility.
What are the pros of merino wool?

We are big advocates of merino wool at New Zealand Natural Clothing and we hope you will come to admire its many benefits and qualities too.
Why is merino wool so great?
Firstly, it wicks well. This means that it takes moisture away from the body leaving your skin warm but not damp.
Merino wool is breathable and insulates effectively keeping you snug without the stuffiness that comes with less breathable fibres. Because of these qualities, merino wool adapts to different temperatures making it the best choice for any occasion.
There are a whole host of protective bonuses to merino wool such as;
UV protection

Flame resistant

Odour resistant
By now you're signed up and thinking that this natural fibre couldn't get any better...well think again!
Merino wool is also lightweight, soft and stretchy to give you that comfortable fit.
And because it is a natural fibre, merino wool is renewable, recyclable and biodegradable. Three fat ticks for the environment there!
Merino wool will keep you warm, dry and comfortable plus offer you flame and UV protection. How can such a brilliant fibre have flaws?
What are the cons of merino wool?

The quality of merino wool is second to none as we have seen but there are some things that may make you reconsider investing in a merino wool garment.
Firstly, merino wool is in huge demand and because of this it can be more expensive than some are willing to spend.
If you don't care for merino wool appropriately it won't last as long. No bunging it in the machine for a quick wash if you want it to retain its quality.
Merino wool is more vulnerable to moths, so keep this in mind when you're storing your cosy merino knits! It's also slower to dry so not the best option if you expect a quick dry option.
Overall, if you want the quality and warmth of merino wool - you'll do a little bit of extra leg work to keep it in the best possible condition because it is more of an investment.
New Zealand Natural Clothing merino recommendations

Choosing a merino garment can be daunting because there is so much choice! Merino wool plays a massive role in keeping you warm whether it's in a pair of socks, a knit or a base layer.
Here are some of our personal favourites!
If you want some 100% Merino in your life


Our picks of Merino + Possum blended garments

In conclusion, merino wool will definitely keep you warm and it offers a bundle more benefits! It will soon become your favourite go to in your cupboard.
If you have any questions about products or fibres, we are happy to guide you through the options. Just drop us a line in the chat box if you have any questions.