Kiwispondence, Which socks are best for walking?
Walking hiking strolling ambling rambling trudging plodding trekking marching striding patrolling wandering treading roaming…….
Whatever way you name or describe this activity, you probably think in the following order; 1st of your lung fitness, then leg muscles, then maybe how you will pamper your tired feet post the exercise.
We get asked this question a lot... Which socks are best for walking?
This Soxspert went and asked his co-director Soxspert, Julie, for her first response to the question…Which socks are best for walking?
"Ones with arch support banding" came straight out. I said thanks!
As I and walked towards the keyboard to jot that down, she was ready to offer more advice - but only once she had answers to some foot questions…….
What ground conditions are we catering for?
Hot or cold temperatures?
What footwear is being worn?
How long are these walks?
Do you have any orthopedic conditions?
Do you have blood flow restrictions?
Do you normally have a hole in your socks? And where?
What socks have you been wearing?
Why are you asking the question, "which socks are best for walking?
That last question is key here, why are you asking; "which socks are best for walking?" It tells us that you have had, or are having, issues with your feet, while doing your favourite exercise. Be it from pounding the pavement all day for work, or if you have a big pedestrian gig coming up that is freaking you out a little on how your tootsies will react....
Let's get some Soxpert advice from Phil and Julie NZNC..
Here's our run down of the different components and qualities of a sock. Complete with some things to look out for is you're looking for that ideal walking sock:
Arch Support via banding.
These Adventurer socks have a band around the circumference of the foot that holds the sock in place to limit sliding, bunching in either direction to the heel or the toe, shown in the description as arch support, there is an elastic construction that is also known as elastic instep by some makers
The Arch support can be seen clearly in this Possum Trekker image above.
Cushion Sole
Most sports socks we sell have a terry loop construction through the sole, heel and toe. It's reinforced by doubling the number of loops in those areas which forms a platform of soft sponginess. It's rare to feel this in the world of socks, but when you feel it, you know your socks are right for the job. These comfort pads can be placed in high wear and high pressure points of the sock to suit the type of footwear and activity.
http://nznaturalclothingshop.co.nz/products/ankle-sport-sock-coolmax-2-pack-70mile-bush.html#description
This image is of the basic construction in this 70 Mile Bush Ankle Sport Sock show the use of double loop cushion sole with the use of 2 colours of yarn, Y Heel and arch support.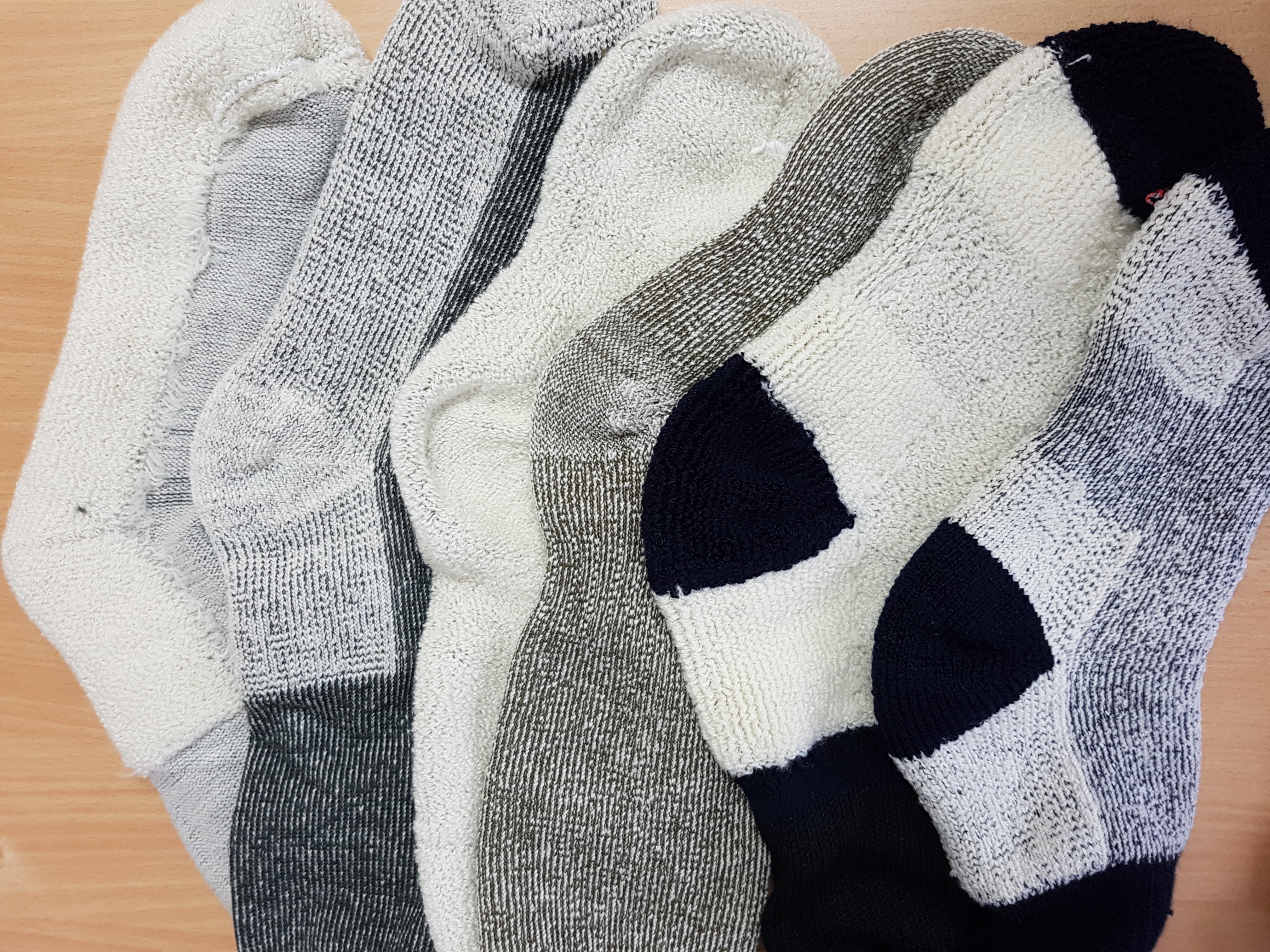 Right and left fitting
That's right, it may look to be a gimmick but take a look down on your foot, the big toe is way forward of the little toe and that foot shape is sewn in so there is limited bunching around the little toe area.
Y Heel
This isa sewing technique in the construction for locking the sock on the heel. We advise to look at this for extra comfort and anti slip.
Anti bunch zones
As above, the Y heel and the Arch support are in the midst of zones that normally move around in the footwear and bunch thus causing blisters and holes in your socks.
Seamless toe
It's important to know that a toe seam can and will give discomfort across the toes in many cases, look for a seamless toe construction like these Norsewear Milford Socks.
Flex panel
NZ Sock Company in Ashburton, NZ uses a different weight of merino fibre to create Flex panels in the front of the ankle where a lot of pressure is applied in the continual movement of the foot. This sock will be on our site soon.
Mesh/Soft cuff
The Wilderness sock is one of my favs! The soft top allows the blood to flow freely while sitting nicely on the boot or hiker shoe you wear.
Ankle protection pads
These are positioned for pressure put on the foot when the terrain has left the 4 wheel drive behind and those muscles and tendons are being put to the test.
Merino, Our favourite fibre and blended with nylon to 30% socks hold shape, wick moisture, trap heat and can manage wet conditions. Read more about the properties of Merino in our Blog.
Coolmax
These are coolmax socks. Coolmax is an engineered wicking fibre to remove perspiration and keep the feet dry, some of you may prefer synthetic.
Possum blends
A nice addition your your winter wardrobe, or if you suffer cold feet but are actively walking. The hollow fibre is a natural heat trap! Check these out! Winter golf anyone?
Our feet are forgotten too often. Love your walking, love your feet, that's what we say.
You can love your feet by getting the sock that suits your walking passion and budget. The R&D, construction and content of the higher value socks puts durability on the top of the reasons to spend a little more. Use the above list to choose which sock will work for you.
You may choose his and hers walking socks, (same sock different colour) and know those are your walking socks. As you might already know, there can be a bit of a fight around the washing basket otherwise!
Thanks for reading, and have fun walking. Test drive your old socks today, put some thought into what you feel inside and around your feet and ankles, where can they use improvement?
All socks sold by us are New Zealand Made. We've celebrated 50 years of the sock factory at Norsewood and have an unprecedented experience in the art of a good durable sock.
Don't forget, your Soxsperts are here - hit us with any questions. Ph 0064 6 3740897 sales@nznaturalclothing.co.nz
Kind Regards
Phil Grant, Director, Soxspert NZ Natural Clothing LTD