Imagine you're in 8th century Greece BC. You are wearing 'piloi' on your feet. The very first pairs of socks. Made from matted fur and leather these were then elevated to 'udones' in 2nd century Rome AD. The Romans created fitted 'udones' by sewing fabric together.
We've advanced hugely since then and in the modern day we find ourselves with socks made from all sorts of fabrics in multiple designs for any occasion! Needless to say, we ourselves are very proud of the selection of high quality socks we offer our customers.
Our merino socks are a particular favourite and we have a host of advocates for these luxurious socks!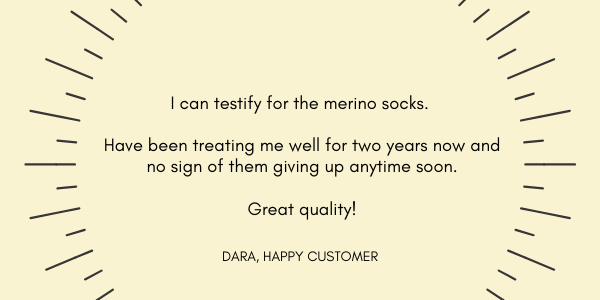 We want you to know everything there is to know about merino socks so we're going to tell you about what they are, the different types and where you can find the very best!
Merino socks are made from merino wool. Merino wool is from merino sheep, these sheep are sought after for their high quality wool. Originally from Spain, merino sheep started being domesticated in New Zealand and Australia in 1797.
But what makes merino wool so special?
Merino wool has so many benefits, the top ones are;
It wicks better. This means it expels moisture as opposed to holding it in

Merino feels really soft on your skin

Low allergenic; always good news for those of us who are prone to itchy reactions!
At New Zealand Natural Clothing we use the finest merino wool, usually 18 to 20 micron. This has a massive impact on the quality of the sock. The lower the micron the more fine the wool.
Merino works really well on its own and as a blend. If you haven't bought merino before, be mindful that even if the label says it's 100% merino there are different grades and specifications so take care to check the micron for the quality we boast about!
The merino socks we stock are mostly blends and we make sure you know where it's made, how it's branded and what the composition of the sock is!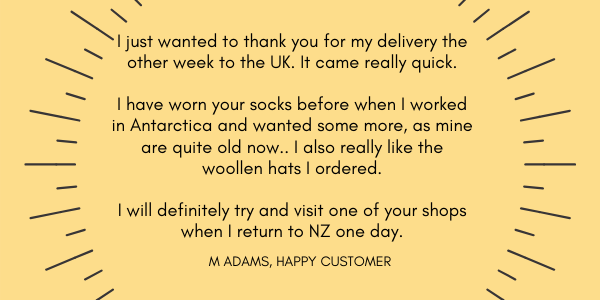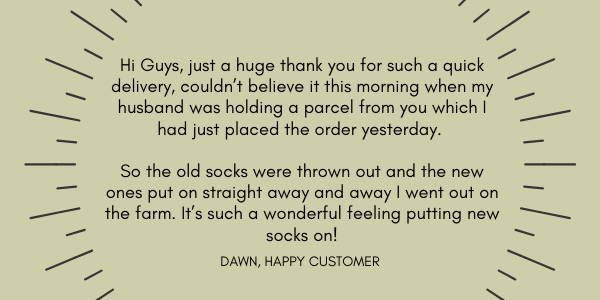 Merino wool offers such fantastic quality that we use it in a lot of our socks! These are the types of merino socks we offer;
Designed especially for gumboots with a longer reinforced heel plate, Cushioned sole, toe and arch support to reduce slipping. Made up of 55% merino, 25% nylon , 20% acrylic. Guaranteed not to fall down, as long as you choose a fitting size if you are a 10.5 stay with large 8-10.5 for example
These ergonomically designed socks with elastic support system that are hardworking and durable. Made from 70% merino, 30% nylon The High Country is the same construction without the terry loop cushioned sole!
75% merino with 25% nylon 55 Lycra make the women's classic merino dress sock. Built for comfort and durability.
Fine knit dress socks for knee high boots with 5% lycra to stop them falling down your legs as well as 70% merino and 30% nylon.
A beautiful dress sock with the same composition as the women's classic. A really soft option for everyday use!
Who doesn't love fun socks? We're big fans! They're really fun and still great quality with 80% merino, 18% nylon and 2% lycra. Here's our latest edition:
Little feet need just as much if not more tender loving care. We have a whole range of children's socks that have patterns such as; stars, emojis, hearts or colourful stripes! 70% merino, 25% nylon and 5% lycra mean moisture wicking and non slippage!
Designed for people who don't want an elasticated band at the top of their socks. Really popular with people who need help with their circulation. A lycra core is woven throughout to create the gentle tension needed.
As we know, merino is brilliant at wicking moisture away from the body so it keeps feet dry even when they're working hard! These socks have reinforced soles with blister protection and elastic insteps. Crafted with 70% merino, 24% nylon and 6% elastic to keep your feet warm and dry.

Where can I find the best merino socks?

We are the 'soxperts' of New Zealand because we are the largest NZ made sock shop! We're proud to source New Zealand socks for our customers and we work really hard to provide only the very best quality socks.
You can find the best merino socks at New Zealand Natural Clothing because;
We have an extensive range of products

We're the sock experts

We only stock the best quality socks

We are dedicated to supplying you with New Zealand products
Admittedly we're biased! We love what we do and we love the socks we offer... but so do our customers;