Norsewear a collection of articles on the history
Welcome to my little collection of gathered stories on the foundation of Norsewear and about the man who founded it and helped put Norsewood and NZ made Apparel on the map! enjoy. by, Phil Grant owner NZ Natural Clothing LTD
NORSEWEAR HISTORY
Norsewear was created by Ola Rian in 1964 as a home knitting business in Wellington with 20 women making pompoms and caps.
Factory premises were then acquired in Johnsonville due to a strong demand for these products and the company became a commercial knitting operation.
In 1969 Ola moved Norsewear Homecraft Ltd to Norsewood, purchasing an empty general store and disused dairy factory (Ruahine Dairy Company).
Norsewear based its business on specialty markets for its top quality woollen outdoor garments – heavy sweaters and accessories such as socks, gloves and caps.
Staff numbers increased to 80 people and by 1977 the company's exports to the United States and other markets had risen to $300,000 a year.
In 1977 the company received a national export award by the New Zealand Trade Promotions Council, awarded for outstanding export performance over a three-year period.
By 1978 Norsewear sales rose to $1 million. The company bought a warehouse in New Jersey to provide a base for the development of its trade in the United States.
In April, 1980, a new factory was opened at Takapau, 20 kilometres north of Norsewood, to manufacture accessories such as gloves and caps. The new 800 square metre plant enabled considerable product expansion. The main products - jerseys were made at Norsewood.
Total production in 1980 exceeded $4 million a year - export sales accounted for 30 percent of output with the US taking up to 20 percent of the exported goods. Argentina, Australia, Europe and Japan were also important markets.
At its peak through the 90's and 00's Norsewear was turning over $10m NZD. In 1997 New Zealand Natural Clothing was registered and opened the production up to more natural fibre products into the tourist and export markets.
In October 2007 Norsewear was sold 3 ways - Phil Grant and Julie Hedley purchased the factory site and retail stores and re branded the stores as New Zealand Natural Clothing; still selling the iconic Norsewear brand in its product mix and taking the product to events like Nation Fieldays.
The manufacturing operation was purchased in 2007 by The Kiwi Sock Company and is located in the original factory site; locally owned
Apparel brands in Auckland purchased the Norsewear brand at the same time and then sold it back in June 2016 The Kiwi Sock Company re purchased the Norsewear name and brought it home to Norsewood, in time to celebrate its 50 year anniversary since Norsewear was launched.
Below is an original document circa 1970's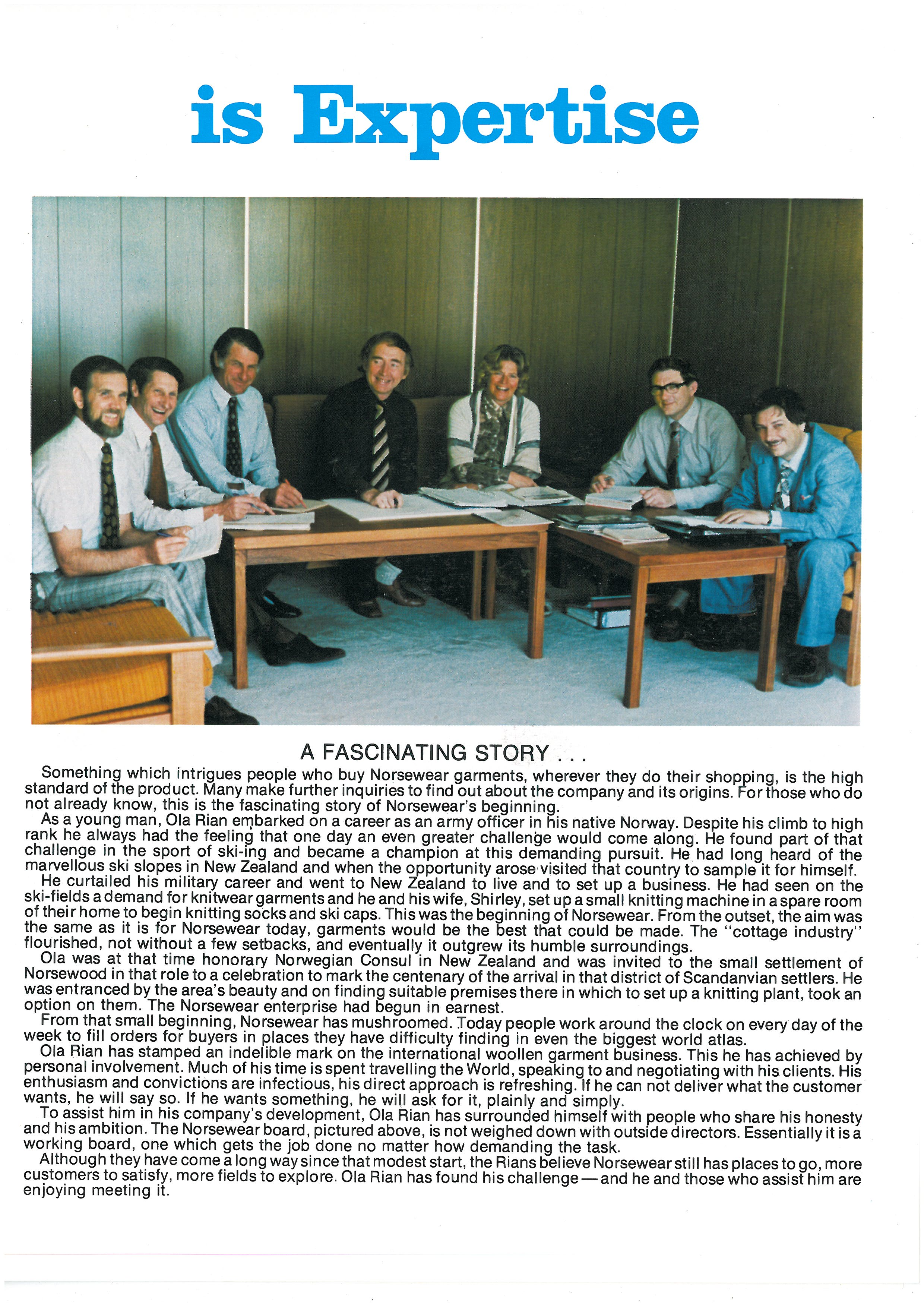 Finally, This is an an article written and published in 2008 to combat the "Norsewear is closed" assumptions after the sale of the stores, the site and the brand. All happened at the start of the next global financial global crisis.
Socking it up in Norsewood
Story & photos Vivienne Haldane.
Norsewood, population 330, sits at the gateway to the Tararua District. Since the town was split in half by State Highway 2 in 1966, traffic shoots straight through its middle with only a white overpass connecting Upper and Lower Norsewood.
Small it may be, but it's a town big in spirit in many ways.
The chill in winter from the snow capped Ruahines may cut to the bone, but the locals are always cheerful and welcoming.
Each year in May, a colourful procession of villagers and visitors in Scandinavian national costume celebrate Norwegian National Day. They remember too, the gritty pioneers (many of whom were relatives) of their community who forged new lives here.
Ola Rian, the creator of the iconic Norsewear brand of knitwear was born in Norway and although he didn't live in Norsewood at first, it was his destiny to end up there. Ola, who was a skiing champion in his home country, visited New Zealand in the 1950's and fell in love with the landscape. In a twist of fate, on returning to Norway he met his New Zealand born wife Shirley and they came back to live in Wellington. During this time, as well as Ola's full time work with an insurance company, the couple embarked on a knitting business which expanded to employ knitters working from home and then later opened a factory in Johnsonville. He used to say "Wool is best because it's warm and lets the garment breathe nature's way.
A visit to Norsewood in the 1960's for the Constitution Day celebrations ignited the idea of producing the knitwear from this little village. Ola found an empty general store and a disused dairy factory and the rest, as they say, is history.
Norsewood became synonymous with Norsewear and it mushroomed from humble origins into a multi million dollar business with branches in other parts of New Zealand. In 2007, the business was restructured and the Norsewear brand was sold toNew Zealand clothing company Apparel Brands (owned by Barkers' Menswear's former owner, Ben Nathan) and its manufacturing moved offshore.
During this time, Phil Grant was working for Norsewear as a retail consultant. He says "I started with them in 2005 and was asked to open a new shop in Otaki which went really well."
Following the change of direction for Norsewear, Phil and his partner Julie Hedley decided to buy Norsewear's retail stores (including the one in Norsewood) and reopened them as N.Z Natural Clothing. "It made sense to continue to develop what we'd put our heart and souls into," explains Phil. In July 2008, Julie and Phil bought Norsewear's building, plus the factory site which makes socks (as the Kiwi Sock Company) under CEO Wayne Russell.
N.Z Natural Clothing sells brands such as Classic Sheepskins, Liberty, Thunderpants, Earth Sea Sky and McKinlays. Phil and Julie pride themselves on selling products that are 100% New Zealand made. In doing this they proudly align themselves with local manufacturers to support N.Z industry and make it easier for consumers to find and purchase home-grown products.
Due to public demand they also stock the much loved Norsewear and Swandri clothing brands.
Phil speaks knowledgeably about Norsewood's history, loves the small community and has plans to incorporate more of its Scandinavian heritage in developments he has on the drawing board, including a museum of Norsewood's heritage. Based in Otaki, he shuttles regularly around their other outlets in Auckland, Geraldine and Wellington.
On a frosty winter morning, the shop in Lower Norsewood, has a wood fire burning brightly. It's 'wool central' with merino boxers for men, a wall of socks, fluffy possum and merino blend jerseys that make you want to reach out and stroke them and a host of other items a body needs to ward off the bite of winter.
As a good endorsement for the garments he sells, Phil is practically dressed head to toe in wool.
"The Norsewear shop used to stock mostly accessories - socks and jerseys but we've now expanded to stock the full kit including travel wear and country wear. A range of well priced children's wear is the next step," says Phil.
"When Julie and I started working for Norsewear we found ourselves immersed in the whole culture of what the company was about - it has a big heart. That's why it was so hard when people were losing jobs. However, we took on 33 staff and it's now increased to 41 and Wayne took on 18, so not all was lost - life goes on."
A further expansion into a line of "beer gear" (Lion and Tui T- shirts and accessories) will take place soon, to fill the gap between August to October when sales drop off.
"We're working in with DB and Mangatanoka Breweries and Mt Bruce to make sure the Tararua tourist triangle is promoted."
"The challenge is to let people know we are here. That was the biggest issue we had when we took over, because everyone thought Norsewear had closed which, officially it had but we're still here, running as N.Z Natural Clothing."
A visit to the sock factory behind the shop reveals a noisy hive of activity of machines and threads, boxes spilling over with woolly socks and women busily packing orders.
Phil says this side of the business is going exceptionally well. "They're such iconic socks. The popular 'Farm Flecks' have been made for 40 years and Wayne has introduced a new range under the label '70 mile Bush' and 'Duthie & Bull'. His latest innovation is a gaiter sock that keeps unwanted stuff out of your boots."
As someone who loved woollen products and believed business could be run successfully out of a small rural community, Ola Rian would heartily approve of these modern developments.
Today, check out the cool products we sell