Product Information Accessories
Accessories for Every Occasion
Our New Zealand-made accessories keep vulnerable parts of the body warm and comfortable, even in the winteriest of conditions, due to the attributes of the natural fibres they are made from, such as merino wool and possum fur. Merino and possum fibre are highly efficient temperature regulators, even when wet, and are lightweight as well. Hollow-core possum fibre has superior insulating properties, trapping air and warming it next to your skin. It's also up to 55 percent warmer than wool alone, and much lighter in weight. Other natural fibres we use include lambswool, silk, and alpaca.
The quality and durability of the accessories we stock contribute to their strong appeal among both local Kiwis and travellers. Our scarves, shawls, warmers, balaclavas, beanies, and gloves are ideal for protecting your head, neck, wrists and hands when working outside, hiking in the alps, or at the footy.
Hats, scarves, and gloves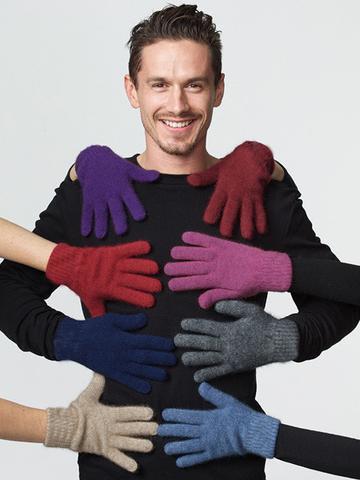 We offer products such as beanies, balaclavas, scarves, and gloves that are guaranteed to be your go-to clothing items in the colder months. Here's a sample:
Since 1968, Norsewear has been making accessories at a factory in Norsewood, NZ. Some of their classic lines we stock include the "Aspiring" beanie, a no-nonsense item made from wool with a polar fleece liner, and durable woollen gloves.
No more cold hands with Possumdown's classic possum-merino blend gloves, available in all the colours of the rainbow (pictured). And for a handwarmer that's a cut above the rest, we offer fingerless gloves that keep your hands toasty warm while leaving your fingers free for work, or texting your mates, under our own premium label, NZ Natural Clothing. These gloves include silk with possum fibre and superfine merino wool, and feel luxuriously similar to cashmere. Or have a look at the trendy yet practical striped glovelets, also from Possumdown, which keep your arms as warm as your hands.
Our scarf selection covers every need, from your basic black lambswool scarf (from Norsewear), to fun and colourful scarves with possum added to the wool for a luxurious feel, to the full length, double-layered luxury scarf from our NZ Natural Clothing label. This scarf is made from 100% superfine merino wool, possum fibre and silk.
We've got quite a selection of beanies. slouch hats, berets, and balaclavas for all seasons and preferences. Our NZ Natural Clothing brand offers a straightforward single-knit 100% superfine merino beanie, for example, and also a more serious item - double-layered, and including possum, merino and silk fibres.
Both fashionable and practical
We also stock accessories that have that little bit extra in terms of design. For example, check out the koru patterned possum and merino gloves from Nativeworld, made with whole-garment technology, so there are no seams. Or for a unique look, the frill collar scarf will add pizzazz to any outfit.
Then there's the ripple beret from Possumdown, a strikingly patterned hat made in New Zealand with possum fur and pure new merino wool to keep your head snug and warm. As is the case for many of our stylish beanies, we stock a matching scarf to complete the ensemble!
We haven't forgotten the kids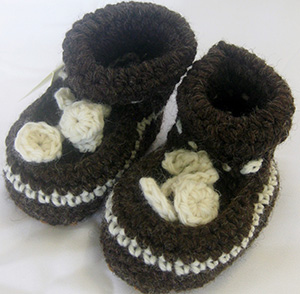 For the youngsters, we stock adorable accessories such as the flower-crocheted beanie, which combines possum fibre and pure merino wool in a warm, non-itchy, lightweight, cute-as hat. Just right for the cooler NZ months, or to send overseas as a gift.
Accessories for kids don't come much cuter than our baby booties (pictured). Hand-crocheted in totally undyed natural wool, these classics have soft lambskin soles lined with sheepskin. Warm and adorable!