In 2019 we declared the Hawaiian snail and the Bahama nuthatch extinct.
Malaysia lost its last Sumatran rhino last November leading to a regional extinction.
New Zealand's total wetlands are down to 10% of the size they originally were and rapidly decreasing.
Climate change has decreased new coral growth by 89% on the Great Barrier Reef.
2020 is forecast to have a global increase of temperature between 0.99 celsius and 1.23 celsius.
The world is in environmental turmoil and everyone needs to do their bit.
This blog is about what sustainability is, what we as a company are doing to make a positive impact and what we have tried to do and why it hasn't worked yet.
What are you doing to reduce your carbon footprint?
Sustainability is keeping an ecological balance by not depleting natural resources.
Environmental sustainability is our core focus as a clothing company because the reality is that the fashion industry is one of its biggest threats.
We're talking about protecting environmental resources for the future generations which means we must consider;
Using more renewable resources

Protecting our local ecosystems

Minimising pollution

Make environmental welfare a priority

Consider long term consequences of our decisions
Sustainability matters for so many reasons but one of the most important ones is environmental quality. Environmental quality carries benefits such as;
Clean air

Natural resources

Non toxic environment
All things that we want for ourselves, our families and the future generations.
Being sustainable can start small. In your daily life you could commit to any of the following practices and make a positive change;
Stop buying plastic bags

Start using refill shops

Opt for more environmentally friendly options such as bamboo toothbrushes

Meal plan to minimise your waste

Choose to walk over drive when you can

Take your reusable coffee cup when ordering takeaway coffee
As a business we are always considering our impact on the environment and taking steps where feasible to be as sustainable as we can.

How is New Zealand Natural Clothing Sustainable?

Both of our directors come from rural roots and were brought up with woollen garments and non-extravagant thinking around fashion and functionality. This has become a cornerstone of the brand.
It's really essential to be mindful of the consequences of our actions which is why we are doing what we can.
Natural fibres are less damaging on the environment as a whole but specifically possum fibre in our locality. The possum in NZ is a pest and the culling of it helps rebalance our ecosystem. You can read more about this here.
Natural fibres also hit the sustainability brief because they are durable. If you invest in a selection of natural garments they will last you a lifetime whereas the cheaper synthetic fibres aren't always as reliable and you end up buying more and more.
Less chemicals with natural fibres are used. We vet our manufacturers with care to ensure they take all necessary measures to reduce waste where they can.
The Wop Wops wetland is a really special project of ours. It's a self funded wetland that we support. Predominantly acting as a conservation area for the native eels, it is also a hub for learning and we encourage people to visit whenever they like!
The Wop Wops is a wonderful opportunity to learn more about the ecosystem and the local land. Over the years we have ungraded it so it's a really lovely place to spend the day relaxing and learning!
Our goals for the Wop Wops are;

To create a sanctuary for the New Zealand native long-finned eel

To raise awareness about the problem of wetland habitat loss in New Zealand

To provide visitors with an interesting and beautiful place to relax and explore

To introduce people to the history of the site and the surrounding area

To celebrate the diversity of culture, ecosystems, and heritage in and around Norsewood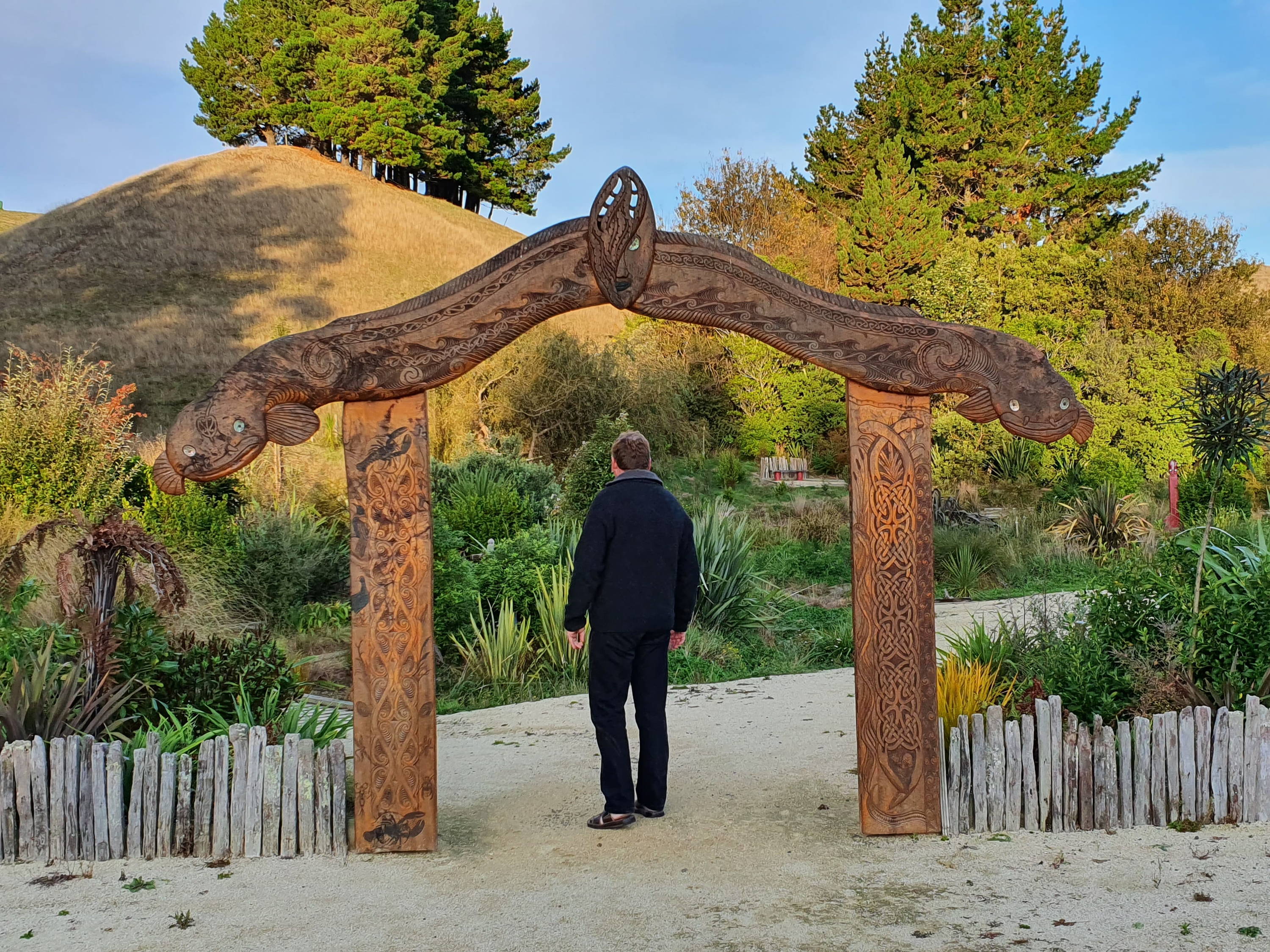 In store we are striving to use plastic packaging that we can recycle in store. We haven't yet found an alternative that offers the level of protection knitwear needs but we are always on the lookout for more sustainable alternatives.
We also have some smashing paper bags in store which are completely recyclable and boast our fantastic fern logo. These are part of an initiative to reduce our plastic waste.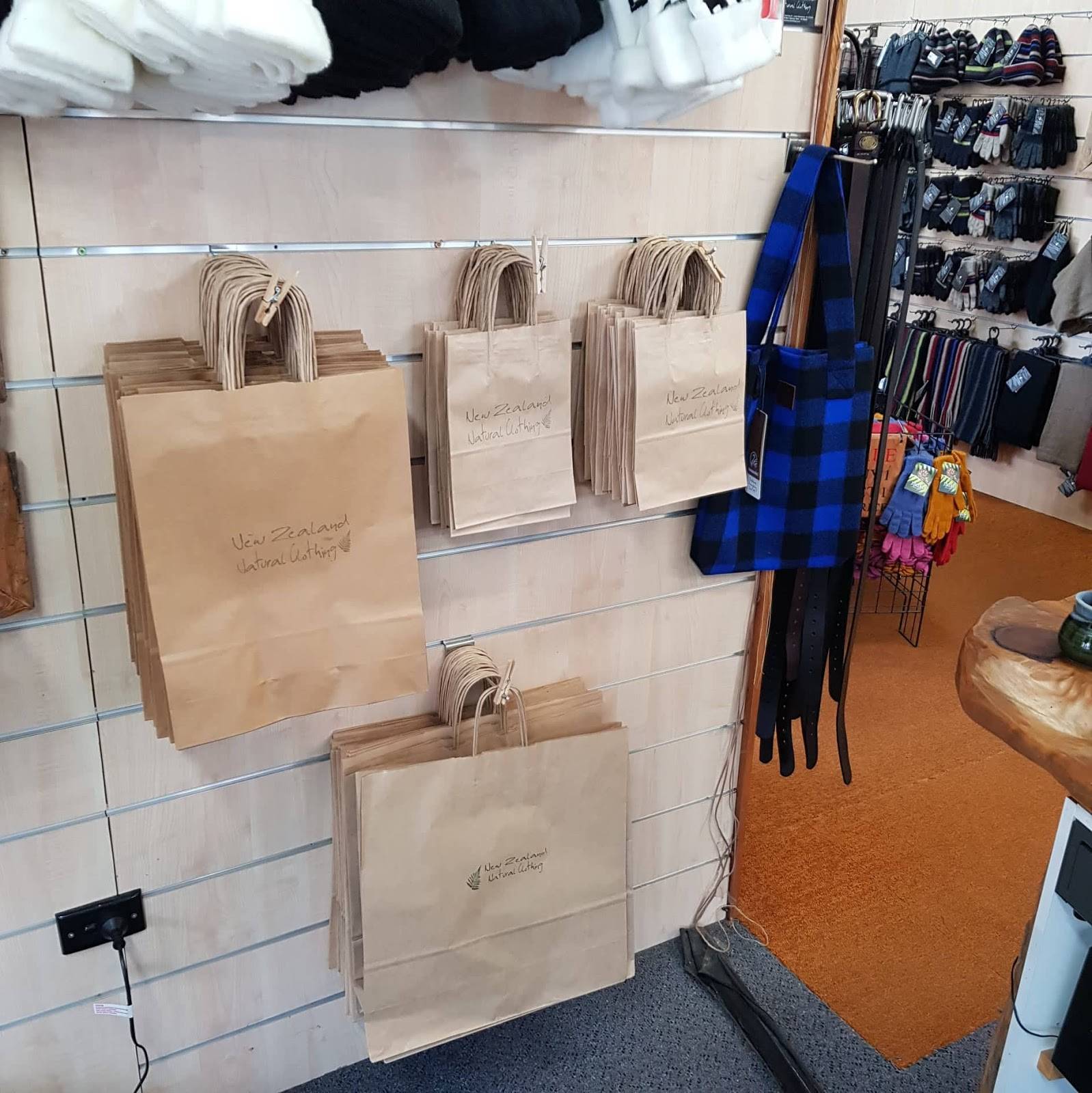 Functional fashion that isn't extravagant is what drives us. Supporting the local ecosystem is one of our top priorities because we want our children's children's children to have a better earth than we have now.
What could we do better for sustainability?

There is always more to be done and over the years we have tried different ways to reduce our carbon trail but sometimes it just doesn't work.
For example, the plastic hooks we use for our socks. We tried cardboard hooks but they just don't have the durability that we need to present our products and they devalued the product rapidly.
Vertical displays work much better for our customers and we have to keep our customers happy.
Knitwear is highly sensitive because of the lanolin. Lanolin is the oil in the wool and it attracts insects. The garment bags protect the wool from flies and insects during storage.
We trialled corn starch shipping bags but in the warmer weather they start to smell and decompose. There was also a supply issue which then delayed products being distributed.
Ridding the world of plastic seems an insurmountable task because so many people rely on it in their manufacturing, production and retail. It's important to focus on taking steps to a more sustainable business or home rather than an ultimate end date.
Every active decision makes a positive impact on your environment and if everyone does a little something soon we will all be moving in the same direction.
New Zealand Natural Clothing works hard to contribute to our local ecosystem, it plays a large role in our decision making. We can always do more and we will continue working to do more for our future generations.
Please do visit Wop Wops to learn more about our conservation efforts and for a lovely day out!
Here is out Givealittle page! https://givealittle.co.nz/org/thewopwops
Run by the Kui Kui Charitable trust.